Ever had boba teas? If it is your first time exploring this type of tea flavors and you have no idea which are the best boba tea flavors, worry less. We are here to give you a quick guide on what to select based on what most people love.
Bubble tea is the other term used to refer to boba which also means sharing. If you are curious about giving these tea flavors a try, go through this article, and you will not miss your favorite flavor.
Currently, bubble tea shops come with various toppings that add extra flavor. We shall also discuss some of the bubble tea flavors that will get you carried away.
1. Black Milk Tea
Black milk tea is, also known as hong kong milk tea, has been in existence for a long time and is also used to make different flavors of tea. Black tea blends when mixed with milk. It has a distinct bitter taste that makes its mixture with milk not too sweet.
You can get this tea on its own on the menu without any toppings. The caffeine in one cup of black tea is enough to boost your mood and energy for the rest of the day. You can click here to see some of the best pots for brewing black tea.
This tea is topped with white or black pearls in most cases because they have a sweet taste that blends well with the black tea mixture to give you both a sweet and bitter taste. In case you want to prepare black milk tea at home, you can get the tea bags at any boba tea shop around where you live. You only need to be sugar, milk, honey, and ice, then enjoy at the comfort of your home.
2. Taro Milk Tea
Ever had taro milk tea? If not, then this might sound strange to you. This type of milk is common nowadays in tea shops. It comes in a mild flavor with a light purple color which most girls love, and I guess they go for the color.
Many people think the flavor is close to vanilla, while others love its fragrance which they presume is quite drinkable. It comes with black or pudding pearl, but you can also customize it to your choice. In addition, you can also top it up with more cream cheese or milk cream if you want extra richness.
3. Jasmine Milk Tea
Jasmine milk tea is a type of tea that has been flavored using jasmine blossoms. The result is a light fragrant flavor. The tea is mostly used as a common tea base.
So, if you are looking for a soft and relaxed flavor yet light and sweet, jasmine is the one. You can top the milk tea with some white pearls, which will make your drink chewy and crunchy. If you understand how to brew this tea correctly, you will find its aroma extremely sweet. It is worth a try.
4. Strawberry Milk Tea
The strawberry milk tea comes in both sweet and sour tastes to awaken your tastebuds. This will undoubtedly fall in your selection if you love the strawberry flavors. However, when preparing this tea, it is worth noting that you should not add too much ice.
When you put too much ice, it weakens the strawberry flavor making the milk pale thus difficult to drink. You will have diluted your milk and probably end up not enjoying it.
5. Classic Milk Boba Tea
If we trace back to the roots of boba tea flavors, we will probably bump into the classic milk boba tea. The classic milk teas are black tea, sugar and milk powder. The toppings added are normally the tapioca pearls.
The result is a creamy, rich flavor that makes it a popular drink among boba tea lovers. If you are new in the field of boba tea, it will act as a perfect starter to your journey in exploring popular bubble tea flavors. Also, if you have a sweet tooth, you can always customize it to more brown sugar and enjoy it.
6. Tiger Milk Tea
Tiger milk tea is commonly known as brown sugar bubble tea. According to its popular orders, this flavor is gradually taking over the classic milk tea. The drink is brewed using brown sugar, fresh milk and tapioca pearls. For the sake of aesthetics, the cup is rimmed with brown sugar syrup to make a lovely pattern. That is why the drink is referred to as tiger milk tea or dirty milk tea.
7. Mango Milk Boba Tea
Mango milk tea is among the fruit tea flavors in bubble tea recipes, giving you a nice flavor. When summer comes, then the mango season says it all. It would be a shame if any boba tea lover would not include this fruit in their recipe.
Mango serves as the best frit to have as a smoothie or a boba slush. With the hot summer weather, you can cool down your system with mango milk te and suddenly change into a beach mood.
8. Thai Milk Tea
As we discuss Thai tea, we know their food and recipes have gathered an audience worldwide. Surprisingly, its recipes have made way to make bubble tea drinks. Thai tea satisfies your taste buds with a sweet taste from a blend of Ceylon and sweetened condensed milk.
To achieve intense brightness that will contribute aesthetically, most boba tea shop owners add food coloring to the tea. So, if you want to experience the streets of Thailand in your mouth, why not give this boba flavor a try? Its unique flavor makes it even more popular than it is.
9. HoneyDew
The honeydew is one of the most popular tea flavors during summer. If you want to cope with the summer heat, it is time to give the melon drink a try. In addition, it is so nutritious for your overall health. If you get it in cafes, you can request added sugar, but you can also customize the honeydew boba without sugar if you are on a diet.
10. Chocolate Boba Tea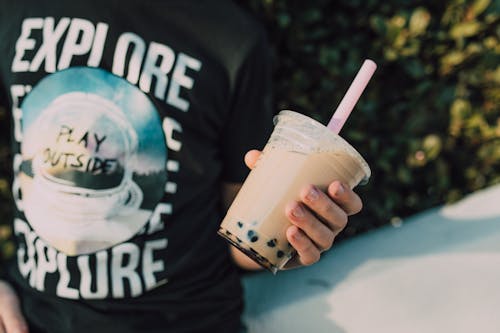 If you are a chocolate lover, you will have done an injustice by not trying out the chocolate flavor. Chocolate lovers will mix it with any dish as long as it blends. Then why not a smooth bubble tea? Chocolate bubble tea is one of the most popular boba tea flavors on the bubble tea menu. It gives you a creamy silk feel, making it perfect for an after-dinner dessert.
11. Matcha Milk Tea
Matcha milk tea must be the undoubtedly best bubble tea flavor that has gained popularity over time. It has a vibrant earthy green look that makes it one of the old times classics in every coffee shop. It is made from matcha powder mixes that you can find online or in any store. It is then mixed with almond milk, honey or any added sweetener of your choice.
You can also top it up with boba pearls. If you are looking for a familiar taste to most boba tea lovers, matcha milk tea is the flavor to choose from. To confirm if the matcha milk tea is good, you should feel the texture and consistency as creamy and of full depth.
How To Order Bubble Tea
After discussing the best boba tea flavors, some people could find it challenging to order. Most shops will require you to order a base boba flavor first before proceeding to the main flavor. They will then ask you if you need any customizations of the ice or add or reduce the sugar levels. It is just the amount of ice you prefer to have on your drink on the ice.
The choices on ice include no ice, regular or more ice. Sugar level will require you to choose how sweet your drink to be. Again, the choices include no sugar, less sugar, regular or more sugar. Also, popular bubble tea flavors are made using non-dairy creamers and the type of milk. If you want a specific type of milk to be used to make your bubble tea, you have to specify before making an order.
Most shops have fresh milk, coconut milk, almond milk, soy milk and sweetened condensed milk available to choose from the variety. Since plant-based milk is becoming popular, you can even find oat milk in some stores.
After picking your base bubble tea flavor, you can customize it with your preferred ice and sugar level. Then, finish by adding toppings to your preference. In most cases, people add 1-3 additional toppings, but you can add as you wish. Also, it is worth noting that most bubble tea shops charge extra for any additional bubble tea topping. Meaning if you fill your cup with more toppings, you will have less drink. If you are not a lover of tea, you can explore some other drinks that you may find interesting.