Be prepared for a treat with one of these Indian air fryer recipes. Depending on where you live, you can always impress your family and friends with the Indian flair of your delicious creation.
Indian recipes have grown in popularity because they are healthy and flavorful with great spice. In addition, you get a variety of gluten-free and vegetarian options you can try. However, some of the Indian recipes may take a lot of time, but with an air fryer, timing is greatly reduced, and you can do other things as your food gets cooked.
You can cook so many things using air fryer Indian recipes, from main to dessert, from sides to snack. Everything, with so much less oil and amazing taste. Keep reading to find out the best air fryer Indian recipes to try.
Is Airfryer Good for Indian Cooking?
Yes! Air fryers are great for a variety of healthy Indian recipes since they help you cut back on the oil used in deep frying. This means whatever the type of Indian recipes you're making, whether keto, gluten-free, low carb, plant-based, vegan, vegetarian, or non-vegetarian, you can always do that using an air fryer.
Which is the Best Air Fryer For Indian Recipes?
There are a number of air fryers available in the market today. Our recommended choice would be Cosori Air Fryer which comes with a square basket to provide more surface area for cooking. It is also one of the affordable ones and has a great quality.
This air fryer and instant pot can prepare meals for about four people. However, if you want a larger air fryer over, we recommend
. It is an air fryer and a toaster oven all in one. It can accommodate up to three pounds of food, which is great for a bigger family.
With that being said, we have curated some of the best air fryer Indian recipes you can try out. Some of them are Indian-inspired air fryer recipes, while others are authentic Indian cuisine air fryer recipes. No matter your skill level in Indian air fryer recipes, we hope you feel confident enough to try out some of the recipes.
1. Air Fryer Onion Bhajis
Image Source: https://greatcurryrecipes.net/
Onion bhajis are flavorful and easy to make. They are made with thinly sliced onions and a batter. This batter is made from sifted gram flour and a selection of spices. The gram flour commonly used is chickpea flour as it provides an extra flavor, but you can also use all-purpose flour.
Ingredients
Salt
Flour
Onions
Kashmiri chili powder
Chopped cilantro
Tumeric
Procedure
Add all your ingredients together
Add flour till you can create bhajis or loose balls
Air fry them for approximately 15 minutes at 380 degrees Fahrenheit
Enjoy your onion bhaji air fryer Indian recipe.
2. Air Fryer Pakoras
Image source: https://www.allrecipes.com/
Pakoras are quite similar to onion bhaji. They are also made with spiced batter. However, they are loaded with potatoes and cauliflower instead of onions.
Ingredients
Cooking oil or cooking spray
1 cup of yellow potatoes cut into small cubes
2 cups of chopped cauliflower
3/4 cup of water
1/2 chopped red onion
1 ¼ cups chickpea flour
1 tablespoon of salt
1 teaspoon of coriander
1 clove of minced garlic
1 teaspoon of curry powder
½ teaspoon ground cayenne pepper and cumin
Procedure
In a large bowl, add the potatoes, cauliflower, water, chickpea flour, garlic, salt, cumin, cayenne, curry powder, and coriander, then allow the mixture to rest for about ten minutes.
Preheat the air fryer to 350 degrees Fahrenheit.
Apply cooking oil to the air fryer basket or spray using cooking spray,
Add the two tablespoons of the mixture to the basket and flatten. Ensure the pakoras do not touch.
Cook for about 8 minutes, then flip and cook for an extra 8 minutes.
3. Spicy Bombay Potatoes
Image Source: https://www.talesfromthekitchenshed.com/
Scipy Bombay potatoes have an amazing spice blend, and they can be prepared with either an instant pot, air fryer, or oven. They are coated with a mix of chaat masala, cumin, coriander, turmeric, amchur, also known as dry mango powder, and Kashmiri chili powder.
Ingredients
Oil
Fresh lemon juice
Chopped cilantro
Baby potatoes ( red or gold)
Spices (salt, turmeric, ground cumin, chaat masala, amchur, ground coriander, and Kashmiri red chili powder or a combination of paprika and cayenne.
Procedure
Clean and dry the baby potatoes and cut them in half
Add two tablespoons of olive or avocado oil and salt.
Place them in the fryer basket with the cut side facing down.
Cooking time is approximately ten minutes at 400 degrees Fahrenheit.
Ensure the potatoes are about 80% done before removing them from the basket.
In a mixing bowl, add a tablespoon of oil and coat the potatoes.
Add all the spices and mix to ensure they stick to the potatoes.
Put them back in the fryer basket and spread them evenly.
Cook for about 5 minutes at 400 degrees Fahrenheit. Then, remove the basket, shake it, and put it back for 5 more minutes until they form a golden crisp crust.
Garnish using chopped cilantro and lemon juice.
Allow the meal to cool for 5 minutes, then serve.
4. Paneer Tikka
Image Source: https://spicecravings.com/
This dish is a terrific meal, swapping the chicken with Indian cheese. Paneer is simply an Indian cottage cheese that is similar to tofu. It is unsalted and doesn't melt like regular cheese. The marinated paneer includes a blend of spices and yogurt to make it creamy, warm, and tangy.
Ingredients
Paneer cut into 1-inch pieces
1 onion cut into 1-inch chunks
1 bell pepper cut into 1-1.5 inch pieces
2 tablespoons of oil
2 teaspoons of crushed ginger
2 tablespoons of lime juice
1 tablespoon of sifted chickpea flour
1 tablespoon kasoori methi
1 teaspoon of crushed garlic
1 teaspoon of salt
1 teaspoon of garam masala
1 teaspoon paprika
1 teaspoon chaat masala
1 teaspoon of Kashmiri red chili powder
1 teaspoon ground coriander
3/4 teaspoon of turmeric
A few drops of lime juice
Procedure
In a large mixing bowl, combine oil, garlic, salt, yogurt, kasoori methi, minced ginger, besan flour, lime juice, and all other spices.
Add capsicum, onion, and paneer pieces to the mixture and mix to get everything coated.
Refrigerate for about 30 minutes
Arrange the peppers, onions and panners on a bamboo skewer, alternating a paneer cube with a few slices of onions and peppers.
Line the drip pan using aluminum foil and arrange the skewers without overcrowding the tray.
Cook for 5 minutes at 350 degrees Fahrenheit, then flip and brush with oil and cook for another two minutes.
5. Tandoori Aloo
Image source: https://www.easycookingwithmolly.com/
These are crispy potatoes marinated with a yogurt and spice blend. Here is a simple recipe you should try.
Ingredients
Potatoes
Tandoori masala
Yogurt
Lemon juice
Indian spice mix
Procedure
Chop the potatoes into cubes and add them to a bowl
Add all other ingredients and mix
Marinate in the fridge for about 30 minutes
Add oil to the air fryer basket and add the mixture
Air fry for about 15 minutes at 380 degrees Fahrenheit till they become crispy
6. Air Fryer Aloo Gobi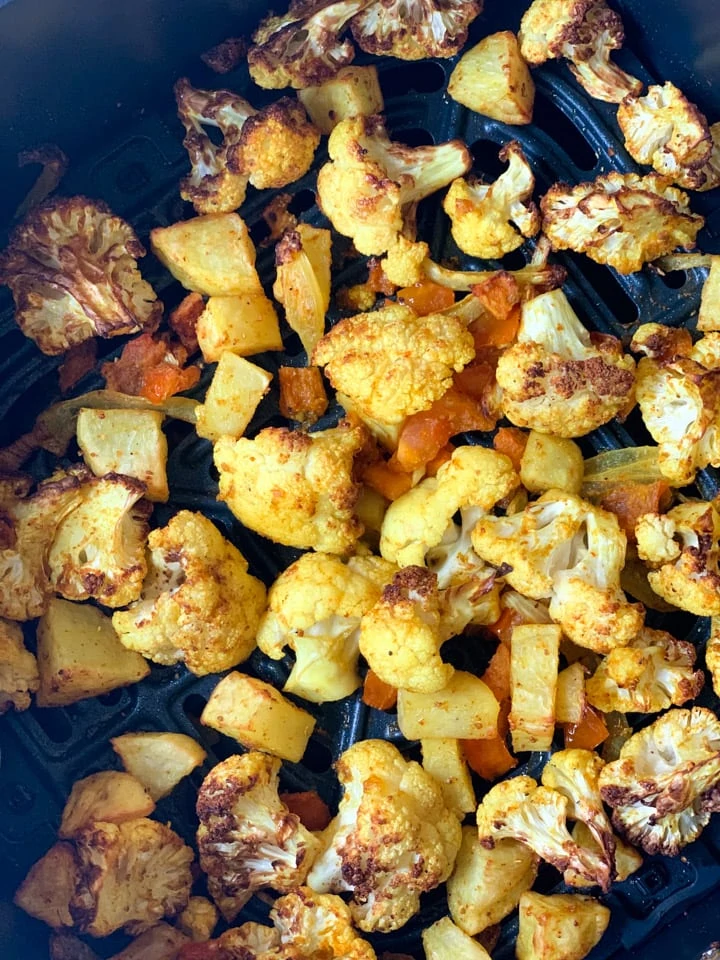 Image Source: https://www.allrecipes.com/
As one of the best air fryer Indian recipes, this fantastic dish livens so many dinners, even a regular roast chicken. This roasted Aloo Gobi is a perfect Indian veggie dish that provides a variety of textures and flavors.
Ingredients
Finely chopped potatoes into small cubes
Chopped medium-sized cauliflower into florets.
Chopped tomatoes and onions
Spices (Ground cumin, red chili powder, salt, coriander, turmeric, and garlic powder or fresh minced garlic.)
Fresh cilantro leaves
Procedure
In a large bowl, add the veggies and ensure there is room enough to mix them.
Add all spices and mix well till all the potato cubes and cauliflower florets are coated with spices.
Transfer the mix to an air fryer basket and spread them out.
Air fry for about 15 minutes at 380 degrees Fahrenheit till they become crispy.
Remove them from the basket and transfer them into a serving bowl
Add lime juice, salt or other spices and mix them well.
Garnish with cilantro leaves and enjoy them with rice, naan, or roti.
Other Indian Air Fryer Recipes You Should Try
1. Air Fryer Samosas
Samosas are simply small pastry pockets loaded with spiced veggies and potatoes. While you can deep fry them, they can also be air-fried without too much fat. This Indian air fryer recipe allows you to get a crispy texture and lovely flakes. If you don't have time, try using phyllo to make an extra crispy layer.
2. Samosa Chaat Phyllo Cups
This is a traditional street food that features a combination of samosas and spicy chickpea curry for one convenient taste. It gives a great crunch and great flavors. Just like the samosa air fryer Indian recipe, this recipe also includes a mix of salt, garam masala, amchur, peas, mashed potatoes, red chili powder, and coriander.
3. Crispy Aloo Tikki Recipe
These are crispy Indian spiced potato cakes that provide a great way to make use of leftover mashed potatoes. It is popular street food, and the recipe is quite simple to make. You can simply serve these potato patties with a runny egg for breakfast or chickpea curry for lunch or dinner.
4. Tandoori Paneer Naan Pizza
Garlic naan is just the perfect pizza because it provides the right flavors and thickness to support the tasty topping. This vegetarian Indian-style recipe uses a marinated paneer, but you could also use chicken if that's what you prefer.
5. Air Fryer Tandoori Gobi
If you're looking for carb or delicious gluten-free recipes, then you should try out this one. Still, if you're not looking for gluten-free Indian air fryer recipes, you should give these cauliflower bites a try. A lot of tandoori gobi recipes will have similar spices. You could find an Indian spice mix to reduce guesswork.
6. Air Fryer Tandoori Chicken
You can never go wrong with the air-fried tandoori chicken recipe. Tandoori chicken includes pieces marinated in yogurt and spices. Tandoori simply refers to a style of Indian cooking rather than the ingredients or flavors used. Chicken wings and drumsticks are preferred since they ensure the meat is juicy and tender but crispy on the outside.
Air Fryer Indian Recipes Vs. Deep-Fried Version
The battle between air fryer, oven, or deep frying is dependent on your recipe, the type of food you're preparing, and your preferences. You can always make Indian recipes using an air fryer/oven, and it will taste like you deep fried it and, in some cases, tasked like you used a deep fryer. Sometimes, air fryer Indian recipes will taste like oven-baked food.
Here are some benefits of cooking using air fryers instead of a deep frier;
Less oil is used
Less cooking time
Evenly cooking on both the inside and outside.
You can freely check the progress anytime by removing the air fryer basket
Frequently Asked Questions (FAQs) on Air Fryer Recipes
1. What Indian recipes can be made in an air fryer?
There are a variety of air fryer Indian recipes that you can try. We have mentioned the best ones above. Others include:
Chicken tikka kebab
Air fryer cauliflower curry
Air fryer plantain chips
Air fryer tandoori paneer naan pizza
Air fryer chicken jalfrezi
Air fryer tandoori fish tikka
Air fryer Kurkuri Bhindi.
2. What is the best thing to make in an air fryer?
You can practically make anything using an air fryer. An air fryer can be used to heat frozen foods but also make a wide range of Air fryer Indian recipes and other foods like french fries, potato chips, donuts, chicken wings, and cookies.
3. What are the disadvantages of an air fryer?
There are not so many disadvantages of an air fryer as it is the healthier choice. However, an air fryer tends to give very high temperatures at a rapid rate, and this makes it very easy for you to burn food.